Eye is one of the most important parts of our body. Through your eyes you can see this beautiful world. Whenever you think about people having no vision, you may realize how hard life can be for you without your eyes. Your eyes are very important to you, no matter what you cannot compromise with their safety. If you are dealing with any eye problem then you must think of the availability of best medical care and best doctor. In Delhi, the capital of India, there are a huge number of medical cares for eyes. If you search on the internet you can find all eye hospitals available in Delhi. The question arises here is how good they are and how much they will cost you. Here we will discuss some of the best eye care hospitals in Delhi with reasonable cost.
All India Institute of Medical Sciences (AIIMS)
AIIMS is one of the best eye care centres in India established in 1967 better known as the R.P. centre for Ophthalmic sciences. Here you can find the best medical service with the best doctors in India. The hospital provides you services like emergency eye causality (around 15 beds are available for causality cases), glaucoma Screening cell and eye bank…etc. The hospital has special facilities such as ocular Radiology, Ocular Pathology, Ocular microbiology and eye biochemistry…etc. It also has an eye collection or eye bank facility. Arguably the best eye care centre with lowest cost.
Address: Dr. RP Centre for Ophthalmic Sciences, (AIIMS), Ansari Nagar, New Delhi-110029
Contact no.: +91-11-26588500, 26588700
AIIMS- Eyemantra
Guru Gobind Singh International Eye Centre and Eye Bank
The hospital is well known for its well experienced senior surgeons and one of the well-established eye care hospitals in Delhi. It was established in 1979. The hospital has been recognized by the International Quality summit for Excellence in Ophthalmology. This hospital has a 3D endoscope with a laser system technology to cure eye disease easily. This hospital cures numerous eye diseases such as: retinal detachment, dislocated eye lens, eye trauma, diabetic retinopathy, corneal edema, …etc.
Address- 31, Defence Enclave, Vikas Marg, Delhi, 110092
Contact No.- 011 2254 2325
Shroff Eye Hospital is the only hospital in north India that has received NABH accreditation. This is one of the leading hospitals in Delhi established in 1914, the hospital has extremely qualified and experienced professionals working overtime to provide you the best eye care in India. This hospital offers you best eye care service available in India to treat your eye problems, this involves the treatment of your corneal problem, Glaucoma, Ocular oncology, cataract, Lasik treatment, Paediatric Eye care, vitreous retina, squints and strabismus…etc.
Address: A-9, Kailash Colony, New Delhi – 110048
Phone no: 011 – 41633999
Eyemantra is one of the best eye care hospitals in Delhi, established in 2012. The hospital has the best surgeons, and a great expert team working together to bring you the best eye care in India possible. This hospital has advanced equipment and highly qualified professionals, and they offer you best services like; cataract surgery, retina surgery, spec removal…etc. The doctors provide you special eye care treatments, prescriptions, guidelines…etc. to take care of your eyes even after the completion of your surgery.
Address: A1/10, Block A, Paschim Vihar, Dehli-110063
Contact No.: +91-8851044355
Centre for Sight runs over 47 centres over the country. This eye care centre found in 1996 with a vision to treat all eye related problems of people. They have advanced equipment5s and experienced doctors. They treat from basic eye check-up to operate major eye related surgery. They provide services like Cornea services, Retina and Uvea services, Lasik and Refractive Surgery, Keratoconus Treatment, Paediatric Ophthalmology…etc.
Address: B – 5/24, Safdarjung Enclave, Opp. Deer Park, New Delhi
Phone No: 011-45738888, 41644000
Anant Jyoti Eye Hospital is a certified hospital by NTC Delhi and it provides the best eye care hospital in Delhi. The interior of the hospital is well furnished and the medical has new equipment to treat all kinds of eye associate problems. This Hospital provides you best services like: spectacle removal by laser or Lasik, glaucoma, lens implantation, retinal laser, vitreo retina, Orthoptics, contact lenses, cornea transplantation, topical anaesthesia…etc. This is capable of serving over 10,000 patients under a single roof.
Address: 432-A, Jagriti Enclave, Vikas Marg, Near Karkardooma, METRO Station, Bhartendu Harish Chandra Marg, Arya Nagar, Anand Vihar, Delhi-110092
Contact No.: 011 4003 6724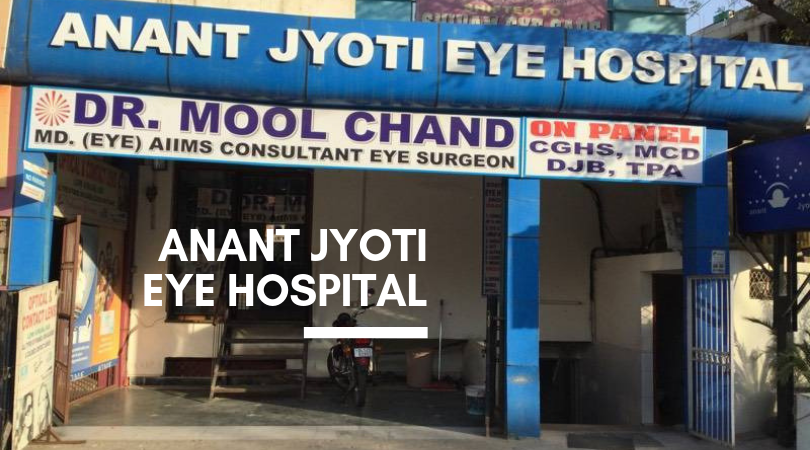 The hospital was established in 2001, and now it is one of the top10 best eye care hospitals in Delhi. This hospital has a well-furnished environment with advanced technology to treat your eyes with the best care possible. Surgeons of this hospital are highly qualified and experienced. The hospital provides you best services with advanced equipment like: Lasik Allegretto machine, Auto refractometer to calculate vision accurately, CT machine to take images of the retina precisely. Also, this hospital performs many eye cares practices ex: Refractive cataract surgery, congenital glaucoma, Squint eye surgery, bi-manual micro incision, Open angle glaucoma, Small incision cataract surgery…etc.
Address– Mandir Marg, Saket Institutional Area, Press Enclave, Saket, New Delhi, Delhi 110017
Contact No.– 011 2651 5050
You may find best eye hospitals in Delhi – while searching internets but the list mentioned above they are the best hospital for eye treatments in Delhi. They have all the advanced technology and will give the best and reasonable service to you.
If you want the best hospital and reasonable services in Delhi do visit the best Eye Hospital Delhi Now! Also Visit the eye hospital in Paschim Vihar, Eye Hospital in Rohini
For booking, appointments give us a call at +91-8851044355. You can also mail at eyemantra1@gmail.com for any queries.
Our team of well-experienced ophthalmologists will advise the best options of surgeries which will be safe and secure. Remember if you have any doubts about your eyes, from Retina Surgery, Specs Removal to Cataract Surgery, EyeMantra is the best stop to visit as best eye hospitals Delhi.
Also Read:

Diet & Nutrition for healthy eyes