There are a lot of eye tests freely online available, which allow you to examine your eyes free of cost, relaxing in the comfort of your house. As life is growing more obvious with apps for almost everything we know, making our life more convenient, people have been head to believe that an online eye test may be a replacement for a time-consuming visit to the doctor or optometrist. This article will discuss with the usefulness, benefits and disadvantages of the Online Eye Testing.
First of all, it's essential to know that an online eye test even if it's called an "online eye exam" does not estimate the health of your eyes. Online eye tests let you check your vision within regular exams by your eye doctor.
Online Eye Testings
Normally, an online eye test more precisely, an "online vision test". They only include your visual acuity and refractive error. In some situations, other vision tests, such as contrast sensitivity and colour blindness, are involved. They testing are feasible and can save cost and money but to an extent.
These measures tell you shortly or nothing about the health of your eyes and whether you have diseases such as cataracts, glaucoma or macular degeneration. To get theses diseases removed one need to have cataract surgery, phaco surgery and glaucoma surgery. You can get small tests done online but big surgery is operated in hospitals.
Even if you choose an online vision test, be informed that you should still have routine eye exams as often as your eye doctor advises. A complete eye exam is the only way to assure your eyes are healthy and free from sight-threatening diseases.
What does online testing make you understand?
All online tests come with signs in small print. They are simply designed to give you a sense of how good or bad your eyesight is. So that you can only direct you to take help from your eye doctor. Some online eye tests are equipped to give you a bit of advice for glasses and contact lenses. But it would be recommended to visit an optometrist.
In online eye testing, some test may provide the testing of contrast sensitivity and colour vision too, that is the best online tests gives you. They do not check eye pressures or examine the front anterior segment or back of the eye that is retina and optic nerve. All of them are a vital part of a general eye check and are provided online too.
These tests, most certainly, are not a replacement for a complete eye examination, done by your eye care specialist. Online eye testing, but, do have value.
Online vision testing may be suitable for adults from 18 to 39 years. Without critical corrective eyeglass directions and signs of eye disease.
A person with a sign of eye disease must visit an ophthalmologist. They are the doctor who deals and treats eye disease and surgery.
It is is not approved for people under 18 and above 40 years.
Online Vision Screening check
Online vision screening checks are is divided into parts.
This is the most important check. All spectacle wearers are known with this test. The optician offers you to read letters or numerals and to recognise the direction of the opening in special rings. Every letter with a different size on a projection surface. The optician checks the size of the different elements you can recognise them without trouble. A process known as subjective refraction is also offered after this by the optician.
A free online check can be conducted. The testing of your visual performance on the screen. This is not meant as a replacement for the tests administered by your optician.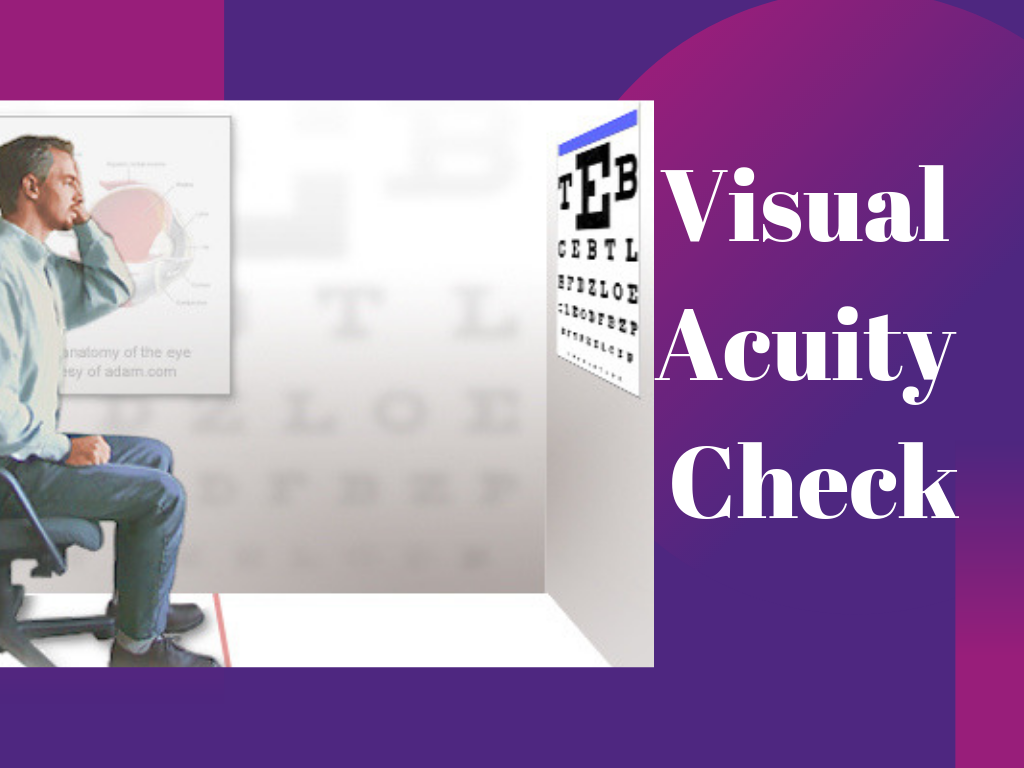 Originally, you may think that this test is not important. However, contrast vision is of extreme importance for healthy vision. If we cannot identify differences in reverse the eye fatigue may be the result. The result will no be good when the contrast isn't correctly set on our computer screen.
Monitoring contrast vision is essential to know any changes that have occurred to our vision. An example of a change in contrast sensitivities is an indication of glaucoma.
In Part 2 the online screening check we assume contrast vision. The test may give you a first sign that your contrast vision is not as healthy as it can be.
Disadvantage of an online eye test
There is a great difference in getting eye tested by a doctor as involves a complete eye exam and in online testings have a risk factor one is taking.
There is no trained eye care expert present to thoroughly check the health of your eyes.
The online test cannot examine cataracts, glaucoma, diabetic eye disease and another eye or common health difficulties. They can only be detected by an eye doctor while a thorough eye exam. Even cannot do cataract surgery and glaucoma surgery for that you need to visit a doctor.
Early discovery of these problems can solve outcomes of treatment, possibly stopping vision loss and even legal blindness. That is not possible with online testings.
Also if your eyes are quite healthy, there is a higher risk of getting incorrect advice for eyeglasses or contact lenses with self-evaluation online vision tests. Even if the effects of your online "exam" are examined by an eye care provider before your eyewear order is filled. There is no eye care expert present when you are taking the vision test.
If you don't take the online vision tests precisely, likely, you won't be seeing as sharply as you should. Even you can experience difficulties such as headaches and eyestrain with your new glasses or contacts lens.
There is a scope that if one time the online testing goes wrong, you have to pay again for it.
Online Eye testing cost
It's not necessary that the online eye testing saves more money than visiting a hospital does. One always gives a thought that visiting a clinic and spending lots of money is a waste of time with ophthalmologists and money as well. It's better to take online services. Online has some kinds of limitations. One will only get a small amount and parts of services.
Also, the price of online vision tests usually is not met by health insurance or vision insurance. Hence, if you hire an insurance agent and have vision eye insurance plan. The cost of a complete eye exam might be less than the cost of an online eye test.
If you are employed, be assured to request for your that what type of coverage you give to the employer for eye care. Many people are careless about the vision benefits and fail to apply them.
Advantages of General eye examination
The general eye check-up is a lot more than just holding your vision for near and distance. It normally contains 2 parts, in the Indian scenario. Most doctors and clinics have a two-step approach to a comprehensive eye evaluation.
The initial step is taken out in the optometrist's chamber and includes the following:
A concise discussion about the historical records of your eye health, and general health, any special concerns.
Determine the uncorrected vision for distance and near.
Assessment of refractive eye and power of glasses or contact lenses.
Estimating of best-corrected vision and after that advice of glasses and contact lenses according to patient eyes.
Evaluation of alignment of your eyes and their muscles.
Checking of eye pressure or intraocular pressure.
The next step is taken out by the doctor. This is the backbone of the eye examination and comprises of the following steps:
The doctor will also examine your concerns about your vision correction and signs in more comprehensive detail.
Slit-lamp examination of the anterior segment of the eye that includes a full check-up of the eye that is lids, conjunctiva, cornea.
90 D/ 66 Devaluation which is also given out on the slit lamp. Using a magnifying lens to estimate the health of your central retina and the optic nerve. The dilated evaluation includes instilling eye drops to dilate your pupils. This enables a more accurate assessment of the optic nerve and the edge of the retina.
Conclusion
While using an online eye test, eye exam, or other types of mobile eye care services evaluate which services are offered.
Keep in mind
Examining your vision
Measuring your refractive error
Receiving a prescription for eyeglasses and/or contact lenses
All of the above does not guarantee your eyes are healthy.
It is necessary for you to have a live, face-to-face complete eye exam with your eye expert on a routine basis. This is done to safeguard the health of your eyes and have a lifetime of good vision.
To know about more our online and offline services for healthy eyes, you can easily visit our website Eyemantra. Our expert guides will provide details of every service in a descriptive manner. We offer services like cataract surgery, Retina surgery, Low Vision Aids or Ocuploplasty you can simply ring at +91-8851044355. Even you can simply mail us on eyemantra1@gmail.com.
Book your online appointments and stay connected with us!
Realted articles

Do's and Dont's for protecting your eyes while playing Holi

Nutrition and diet for healthy eyes