Importance Of NGOs In Delhi
A non-Governmental Organization is an organization that works for the welfare of society without any government affiliation. NGOs are non-profit organizations, they use all the funds they receive from various sources for social work. An NGO could be set up on these levels- community, city, national and international, on the basis of geographical boundaries. They work for social causes like child literacy, environmental awareness, human rights, women empowerment. There are many NGOs in Delhi working with dedication to make this world a better place.
Role Of NGOs
Non-governmental organizations play an important role in the development of the whole country by highlighting the issues that need attention and need to be worked upon. Non profit organizations works faster than some government bureaucracies, because they are independent and are direct while working. These organizations are transparent and are collaborative. The main goal of these organizations works for reducing discrimination on any basis present in society.
NGOs In Delhi
Mobile Creches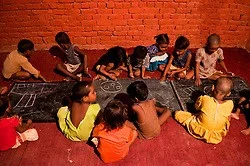 27% of the total working population in Delhi is migrant workers. Most of the times Migrant workers have to keep moving from one place to another in search of work. They have to migrate wherever they can find work. Due to this constant moving and lack of financial stability their children's education, physical & mental health gets affected . Mobile crèches provide shelter to children near the construction sites where they can study, play and eat. this NGO in Delhi provides a safe environment for the children who don't have a stable home.
Smile Foundation- TOP- RATED NGOs IN
Smile foundation aims to educate every underprivileged child. Even covid could not stand in their way. However ,the basic motive of introducing " Shiksha Na Ruke" amid a pandemic was to provide basic education to children who lack in online resources. This NGO understands that a child's education is related to the mental health and awareness of their mothers.
When a mother is aware of the value of education. she makes sure her child does it right. NGO runs over 400 live welfare programs for women empowerment and employment. Increasing awareness of practical issues is one of their prime goals. Foundation believes if one person is educated and earning in the family, it becomes easy for the present and next generation to do better in life.
HelpAge India- BEST NGOs IN DELHI
HelpAge India is awarded as one of the best NGOs in Delhi. The organization works for the disadvantaged elderly. NGO provides them several facilities like livelihood support, old age shelter, and digital literacy. many elder's are the victims of elder abuse and mobile creches helps them take action against it. They set up several healthcare units as well. Their mission is to provide the elder generation a quality life.
NGO ensures that they get a pension, healthcare facilities, and a life they want to live with dignity and respect in society. HelpAge also helps the elderly in being independent by forming Elder-Self-Help- Groups in rural areas.
Moreover, Helpage India connects youth with elders. They run a program 'Student Action for Value Education' to sensitize the youth generation towards elders. And teach the younger generation to treat them with utmost care and respect.
Wordsworth Project- ONE OF THE TOP NGOs IN DELHI
Wordsworth project is an NGO that works for child literacy in slum areas. It is one of the best educational NGOs in Delhi. The way they look out for kids who are underprivileged and have no resources is something to be proud of. This NGO has several branches all over Delhi. They work on mainly ''primary children's'' English proficiency and communication skills.
Organization believes lack of resources should not come in between children's dreams. English is the most basic language that everyone has to learn to communicate better. But most of these children's families cannot afford tuition and schools. Therefore, this NGO ensures nobody gets left behind.
GOONJ- A voice, An Effort
Within 2 decades Goonj has grabbed the attention of many national and international organizations. Goonj is known for its innovative approach. It turns discarded and under-utilized material into useful tools and clothes for the rural population. The NGO is working for the welfare of society by making sanitary pads for rural women and educating them about their menstrual health.
Many people donate their clothes to the economically weak people in villages and rural areas through this Ngo. Similarly, You can also give anything that is not being used in your house to help those in need as well.
Deepalaya
Deepalaya is a nonprofit organization executing many projects in North India. One of their projects works for children with difficult circumstances. In India, many children face difficult circumstances like child abuse. Some children are run-away or are disowned by parents. whereas some have serious diseases like AIDS, and some others are children of sex workers. These vulnerable children face troubles all their life, if not taken care of.
Consequently, the organization provides them overall rehabilitation. Not just meals and education, they take care of their emotional and mental well-being. The NGOs' prime goal is to show the kids a world outside slums.
Care India
Care is a global organization that has branches among 14 countries. One of them is India. Care India works for women's empowerment. Mainly they focus on the marginalized section by motivating them to study, work, and prioritize their health. NGO also helps fight malnutrition among women and children.
The humanitarian work in the organization also includes fulfilling women's basic needs. They provide gas stoves to women in villages to stop household pollution leading to improvement in the quality of their lives. Care works in collaboration with community groups and government departments to help the poor.
Circle Of Animal Lovers
Circle of animal lovers is an animal NGOs in Delhi. CAL picks up street animals every day and provides them food and shelter. The Circle of animal lovers is against animal killing. They adopt abandoned animals and treat wounded animals. CAL deserves appreciation for improving the lives of animals in a country where most people are ignorant towards animals.
Sakshi
Sakshi is a nonprofit organization working for social causes. They worked tirelessly during the pandemic. They provided food and clothes to the migrant worker and helped them reach their home safely. Sakshi is running over 120 centres for marginalized communities for education, health, and community development. Sakshi works on grass root level with and for the people in slums. The motto of Sakshi is to provide all the basic amenities to children and women.
Action For Autism
Action for Autism is an NGO in Delhi that raised awareness about autism before anyone knew about it. Autism was virtually unheard of in India, there was no information available. The organization helps in diagnosing autism and teaches people what it is. Many children with autism have no support from the family. Neither the parents nor society initially understood what autism is. AFA focuses on the well-being of these kids and helps them live with dignity by making them self-reliant.
Dr. Shroff's Charity Eye Hospital (SCEH)
SCEH is a nonprofit organization that facilitates several programs to treat eye-related problems to economically weak elderly for free. Eye cancer treatment, cataract operation, and consultation are provided free of cost. The charity work this hospital does is beyond good. Thousands of elderly are living a better life because of this charity hospital.
Maitri India
In a country like India where women are the victim of poor health, violence, emotional abuse, this organization ensures their safety. Maitri especially supports women who lost their husbands. The organization also provides legal advocacy, education, and support to the elderly widows who were abandoned by their families.
A non-governmental organization not only helps lives individually but also improves the condition of a country as a whole. Above mentioned NGOs are bringing positivity and hope to millions of lives. Donating or volunteering in an NGO is the most selfless thing you will ever do to make this world a better place.